Tobacco + Saffron body butter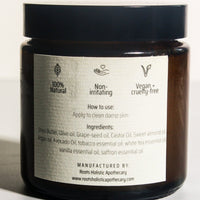 Tobacco + Saffron body butter
Exotic saffron and white tea blend with orchid, tobacco leaf and creamy vanilla.
Saffron oil is cooling, moisturizing, and energizing.
Orchid Oil is a remarkably nourishing and soothing oil that can help improve skin's elasticity and promote cell regeneration.
White tea essential oils are beloved and particularly popular in the practice of aromatherapy because their clean, woody scents have the ability to promote both a general sense of wellbeing and to soothe and alleviate symptoms of anxiety, insomnia, and depression.
There are many benefits of tobacco oil absolutes. One of the most popular is their ability to promote relaxation and calm focus without drowsiness or lethargy. Tobacco absolutes can also be used to support a mindful meditation practice. When inhaled or applied topically (with a carrier oil), tobacco oil absolutes provide an intense stimulating effect that can support greater degrees of focus and cognition.
The use of vanilla is typically reserved for spiritual and emotional well being. It has a calming effect and therefore is a great option to help treat stress-induced conditions, nervous anxiety, insomnia and restlessness, or a general inability to relax. Vanilla is also known for its peace inducing and seductive qualities.
Our concentrated body butters are enriched with shea butter to deliver immediate and long-lasting hydration. The formula contains raw, unrefined, Grade A shea butter which has high concentrations of fatty acids and vitamins that make it incredibly nourishing and moisturizing for the skin. It also offers mild UV protection and provides the skin with the nutrients necessary for collagen production.
For optimal results apply body butter daily on damp skin. Applying while skin is damp allows the skin to absorb the emollients more effectively. This leaves you with moisturized and glowing skin. Applying body butter on dry skin can leave it greasy to the touch, and attract dirt on the skin.
Ingredients: Shea butter, olive oil, grape-seed oil, sweet almond oil, castor oil, argan oil, avocado oil, tobacco absolute, saffron oil, orchid oil, and white tea essential oil.
Not intended to treat, cure, or prevent any disease
LOVE LOVE LOVE
I've been using the Tobacco+Saffron body butter after every shower and it is a joy to put on. My skin is so soft, has a gorgeous glow and the scent is so sexy.