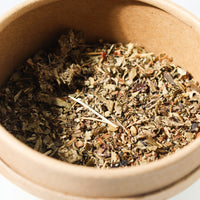 This meticulously crafted herbal infusion was created to soothe your senses and create a peaceful escape from the demands of the day. These herbs we carefully selected to promote relaxation and restore inner balance. (Caffeine Free)
Adaptogen. Tulsi is rich in antioxidants and adaptogenic properties that are known to promote wellness by building the body's immune system, reducing stress and promoting mental clarity.
Aids in relaxation. Chamomile is effective in aiding with relaxation, and also helping with anxiety, depression, and insomnia.
Relieves stress. Lavender helps relieve stress and promote relaxation
Herbaceous
Slightly Sweet
Tart
Tulsi
lavender,
chamomile
lemon
hibiscus
strawberry leaves.
Steeping time may vary based on your personal taste or on how many infusions have already been done. Experiment with the brewing of your tea to discover its unique character.
Water Temp: 200 F
Steep Time: 3-5 Minutes
Number of Infusions: 1-3
Serving Size: 1 tbsp/8 oz
Steeping instruction card included with purchase
Beautiful packaging! Smelled Amazing! 😊
I am transforming my bathroom into a mini spa. 🧖🏾‍♀️ These products fit PERFECTLY with my aesthetic goals. I haven't used any of them yet but I'm EXTRA excited. I ordered the Cranberry Soap, Stress Relief Tea, and 2 candles in the scents of Forest & Serenity. Everything smelled SO SO good! I also loved the Eco friendly packaging and the personal message that read, "For You, Monique" I blushed lol.