Sensitive skin facial cleansing bar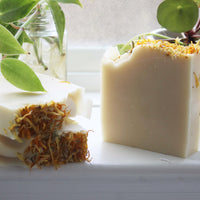 Sensitive skin facial cleansing bar
Our sensitive skin facial cleansing bar is perfect for those with dry and sensitive skin. This cleansing bar will have your skin looking and feeling great in just one application. It won't dry out your skin or strip it of the necessary oils. Enjoy softer, hydrated skin without synthetic fragrance. 
What it does: The main butter used in our cleansing bar is shea butter because it is naturally nourishing. Shea butter soap has been used for centuries to moisturize and replenish the skin. It was made popular by Egyptian Queen Nefertiti, who is thought to credit her beauty to regular use of this plant butter. Shea butter is renowned as one of the world's best natural moisturizers. Rich in skin-loving vitamins A and E, the plant-derived butter also contains Vitamin F and essential fatty acids like linolenic acid, which can help the skin recover from conditions like eczema. The acids present in shea butter are easy to absorb because they're similar in structure to the human body's own sebum (or oil) making it perfect for dry skin. This soap contains no essential oils.
How to use: Use morning and night for optimal results 
All soaps are zero-waste, plastic-free, eco-friendly, vegan, cruelty-free, and sustainable.
Keep soaps on a soap dish/soap saver and out of the direct flow of water to increase the lifespan of the soap. 
No Palm Oil, Parabens, Phthalates, or SLS
Ingredients: Saponified oils of shea butter, olive oil, castor oil, avocado oil, coconut oil, and cocoa butter, kaolin clay, and calendula flowers. 
Free of any synthetics, chemicals, detergents or lathering agents. Not tested on animals.
Not intended to treat, cure, or prevent any disease