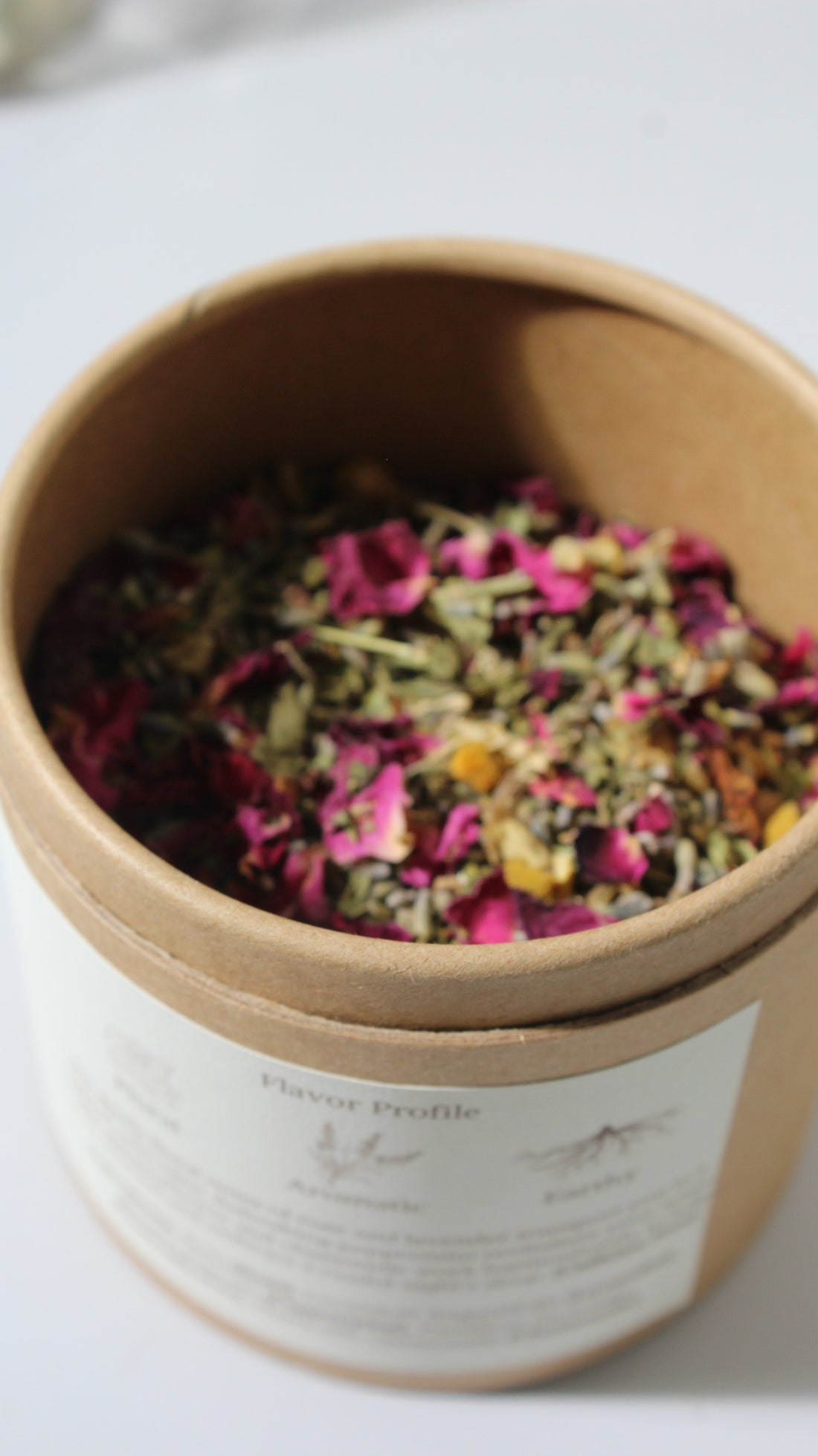 The gentle floral notes of rose and lavender transport you to a state of calm bliss. Refreshing peppermint revitalizes your sense while passionflower and chamomile work harmoniously to help you unwind and embrace a restful night's sleep. (Caffeine Free)
(For optimal results, drink 45 minutes before bedtime)
Mild sedative. Chamomile tea has been used for centuries as a sleep and relaxation aid. Chamomile tea has a mild sedative effect that is great for inducing sleep. After you fall asleep, chamomile can help to improve sleep quality so that you wake up rested and refreshed. Chamomile has also been shown to help sleep quality problems associated with depression and other mental health issues.
Relieves insomnia. Passionflower helps relieve insomnia and anxiety. It appears to boost the level of gamma-aminobutyric acid (GABA) in your brain. This compound lowers brain activity, which may help you relax and sleep better.
Calms brain function. Lavender has long been used to treat sleep disorders as the aromatic herb helps to calm brain function all by triggering a response in your nervous system.
Reduces stress. Rose tea has a natural sedative property which makes it an ideal beverage to consume at night. A cup of rose tea is known to reduce inflammation and reduce stress and hence regulate the hormones related to the sleep patterns.
Muscle relaxer. Peppermint acts as a muscle relaxer, it may also help ease tension before bed and improve your sleep.
Chamomile
passionflower
lavender
chamomile
rose
Steeping time may vary based on your personal taste or on how many infusions have already been done. Experiment with the brewing of your tea to discover its unique character.
Water Temp: 200 F
Steep Time: 3-5 Minutes
Number of Infusions: 1-3
Serving Size: 1 tbsp/8 oz
Steeping instruction card included with purchase