Anti Aging Face Moisturizer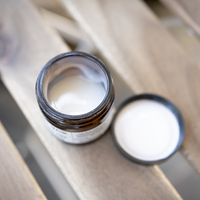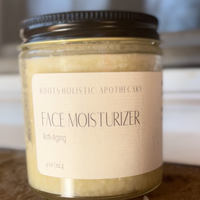 Anti Aging Face Moisturizer
Anti Aging Face Moisturizer
Step 3
(avoid this moisturizer if you're allergic to nuts, as the oil that is used is derived from a tree nut)
Our moisturizer is the third step in our skin care regimen. Our anti aging face moisturizer is crafted to help you achieve optimal skin health. This is a dense moisturizer, but it will not clog pores, irritate the skin, or leave your skin greasy. It's perfect for all skin types including those with acne.
Our moisturizer is made with a luxurious combination of herb infused oils, wax, and essential oils to keep your skin hydrated, your skin tight, and help regenerate skin cells to decrease the appearance of fine lines and wrinkles. Whether you're 18 or 88, this moisturizer is perfect for you!
Use daily on a clean face. The cream goes on thick and a little goes a long way. This moisturizer slowly penetrates the skin layers.
Ingredient Info: 
Candelilla Wax:  (pronounced can-deh-LEE-ya) Is a vegetable wax that is obtained from the Euphorbia cerifera botanical, better known as the small, wild Candelilla shrub. This unique wax is very similar to beeswax in texture and scent, and it poses many of the same benefits. It is an excellent humectant, works wonders for moisturizing dry skin, and is incredibly soothing. Candelilla wax is non comedogenic so it won't clog pores, and is safe to use on oily skin types. It also contains a rich amount of Vitamin A - which promotes cell regeneration and is touted as being beneficial to sun spots and aging skin. It is great for all skin types and works well as a barrier to prevent further skin damage from extreme exposures. It is also hypoallergenic - which beeswax is not.
Tamanu Oil: Tamanu oil is derived from the seeds of the tamanu nut tree, a tropical evergreen native to Southeast Asia. Tamanu oil has a higher fatty acid content than many other oils, making it especially beneficial for addressing dry skin, says Petrillo. More specifically, it contains both oleic and linoleic fatty acids, which give it its powerful moisturizing abilities. Studies have shown that tamanu oil has wound healing and skin regeneration properties. It's been shown to promote cell proliferation and the production of collagen and glycosaminoglycans (also known as GAGs ). This makes it great for healing scars as well as reducing fine lines and wrinkles. Our tamanu oil is infused with gotu kola and red clover for optimal results. 
Rosemary Essential Oil: Rosemary essential oil aids in controlling sebum production. It has anti-bacterial and anti-inflammatory properties that help battle acne. It also helps reduce the appearance of blemishes and can be used to lighten dark marks and hyperpigmentation.
Packaged in 2 oz amber glass jar
Ingredients: Candelilla Wax, Herb infused Tamanu Oil, and rosemary essential oil
How to Use: Apply a dime sized amount to clean damp face. Use after applying rice water toner. Apply daily for optimal results.